With Garageband, you can quickly and easily compose music on your Mac and now Android using the Garageband Android apk, even if you don't master an instrument at all. Because the program supplied free of charge with Apple computers provides several gigabytes of music samples, from which you can easily put together your own piece of music. Read how to do it here.
Composing music with a garage band
This is how you can compose your own piece of music with samples:
Create and prepare a new project
Click File – New .
Select Empty Project with one click and click on Selection .
Select audio as the track type and the microphone below. Don't worry, you don't have to sing.
Click on Generate .
There follows a click on View – Show Apple Loops .
At the top of the garage belt window you will find the pace in the middle .
Click on the value and drag it up or down while keeping the mouse button pressed. This will increase or decrease the tempo of your composition. (You can also change the value later).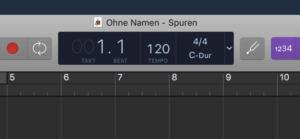 The preparations are now complete. If you see only a few or no loops, get them with Garageband – Sound Library – Load basic sounds from the Internet. If you have the time, storage space and bandwidth, we recommend that you load the complete sound library with Load all available sounds .
Note: We use the terms "sample" and "loop" synonymously – the terms mean the same thing.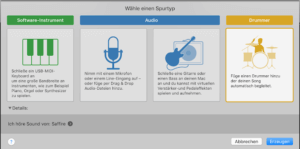 Select music style and listen to samples
The next step is to think about the direction in which your piece of music is going. We recommend the following steps:
In the  Loop Packs area, you will see buttons for instrument,  genre, and moods. Clicking the buttons allows you to filter the samples. You can also combine filters, for example, the instrument guitar and the genre rock/blues.
With the help of key and looking refine the loop selection.
To listen to a loop, click it once. It starts up automatically.
To stop playing, click the loop again.
You can only play one loop at a time. However, it is possible to start the piece of music first and then click on the loop. In this case, you will hear your existing piece of music and the loop.